"Remember to smile, and... DRAW ON!"
—SLiNKi47
SLiNKi47
 is an artist on Disney Create with over 
632,000 stars and 12,700+ fans who has been drawing on DC since 2010. She is most known throughout DC for her inspiring, detailed pictures, her mascot, Winter, and the rumor that she is "the most popular artis
t on DC" with the most fans yet counted.
Throughout the days, months, and years, Slinki has shown much improvement. She has drawn wolves, manga, Disney characters, cats, eyes, realistic, chibi, ponies, Sonic, fanart, and much throughout her time on Disney Create. She has invented unique, creative characters, fun contests, and also a new species that was a hit: Chimis. These creatures were any type of flower with a cute chibi face that can be personally designed as your character.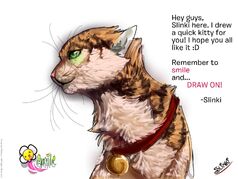 Mascots:
Ad blocker interference detected!
Wikia is a free-to-use site that makes money from advertising. We have a modified experience for viewers using ad blockers

Wikia is not accessible if you've made further modifications. Remove the custom ad blocker rule(s) and the page will load as expected.