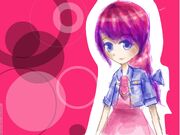 Under_par is a growing artist with 900+ Fans and 34600+ stars.
Drawing
Under_Par is most well known for her human pictures, which are best described as altered manga characters. Her drawing style is unique and was inspired by many other artists. Her art most commonly consists of contest entries, self portraits, requests, and of her current mascot, Mazel. (As pictured to the right)
Trivia
Under_Par joined a little more than a year ago.
She recently turned 13, on November 20th
She has brown hair and green eyes.
She draws with a tablet.
Her main weak-point is drawing backgrounds.
Ad blocker interference detected!
Wikia is a free-to-use site that makes money from advertising. We have a modified experience for viewers using ad blockers

Wikia is not accessible if you've made further modifications. Remove the custom ad blocker rule(s) and the page will load as expected.